Note: All Amazon and Apple TV links on this post are affiliate links. If you buy anything on Amazon or Apple TV through the links on this post (not just items from this post), Amazon and/or Apple will pay me some coffee money (at no extra cost to you), which I promise to drink while creating more helpful content like this. All opinions on this site remain my own.
Where to Watch:
Fall 2022 is one of those movies where you'll spend the entire film screaming at the characters, "Why on earth did you put yourself in this situation?"
The movie sees best friends, Becky and Hunter, climb an abandoned radio tower, 2,000 feet high, in honor of a late friend. But when the pair get stranded at the top with no food and very little water, their climbing skills are put to the test as they fight to find a way down.
At its best, Fall 2022 knows how to set up a gripping scene that would have you imagining how quickly you would die if placed in the same situation. Though the decisions leading up to the climb were daft, everything that happens during it serves as an ominous warning of the incoming disaster.
From the moment Becky and Hunter get stuck at the top, Fall 2022 turns into proper survival horror, and the film capitalizes on all the hints from the first half to build several nail-biting moments.
Similar to "The Shallows" (another great survival thriller I thousand percent recommend), Becky and Hunter find themselves stuck in a survival of the fittest situation, and they spend the next three days thinking of ways to escape a painful death from falling or starvation.
I loved how the movie showed their increasing desperation through the intensity of each one of their plans. While they initially try calling for help through conventional means, it soon dawns on them that no one is coming to their rescue, and both girls result to more daring and dangerous solutions.
But as much as I enjoyed Fall, its story pushes believability to the extreme. Characters make questionable decisions for the sake of pushing the movie forward. And I'm sure if either of them took a second to think about climbing an abandoned rusted tower, 2000 feet high, they would have realized it was a bad idea.
Verdict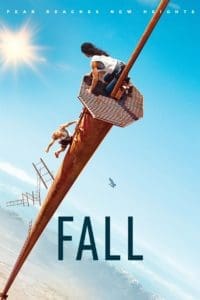 Review
Fall 2022 is a solid survival thriller whose anxiety-inducing moments would leave you at the edge of your seat. Looking past the movie's logic, the film does a brilliant job of delivering an interesting story of survival despite terrible odds. And though some people might find the movie's big twist annoying, I didn't mind it.
Pros
Several Nail-Bitting Moments
Interesting Story
Captivating Film
Cons
Poor Movie & Character Logic 
Several unbelievable moments