Note: All Amazon and Apple TV links on this post are affiliate links. If you buy anything on Amazon or Apple TV through the links on this post (not just items from this post), Amazon and/or Apple will pay me some coffee money (at no extra cost to you), which I promise to drink while creating more helpful content like this. All opinions on this site remain my own.
Where to Watch:
On the surface, Oppenheimer tells the story of Dr. Robert J. Oppenheimer & how he led a team of scientists to develop the first atomic bomb. However, the movie also covers two other major stories that cut across world history and take place after the atomic bomb's creation.
The best part of the Oppenheimer movie (aside from its phenomenal cast and score), is how its story is told. Though it tells three stories, the film gives us two perspectives that add context to its entire plot.
Story 1: Oppenheimer & The Atomic Bomb (In Color)
"And now I have become death, the destroyer of worlds. "
The movie kicks off with the story we expect, the life history of Oppenheimer and the making of the atomic bomb.
Oppenheimer (brilliantly played by Cillian Murphy) recants his life from his time as a scholar in Europe, up till the present day. Through his story, we meet several famous scientists & historical figures, some of whom would later help the physicist build the A-bomb.
One thing I appreciated the Oppenheimer movie for is how it uses well-known actors to play important characters.
It was nice to see how characters like Niels Bohr (Kenneth Branagh) and Werner Heisenberg (Matthias Schweighöfer) inspired Oppenheimer to pursue Quantum physics and bring it to America.
But while some people assisted Oppenheimer, others would land him in trouble with the FBI.
One of the biggest headaches for Oppie was Jean Tatlock (Florence Pugh), a communist who was involved with Oppenheimer. But this affair didn't stop Oppenheimer from marrying his wife Kitty (Emily Blunt), who was a badass and stood with her husband through thick & thin.
When the time to build the A-bomb comes, General Groves (Matt Damon's second-best role this year) chooses Oppenheimer to lead the Manhattan Project. And in a classic "We need a team" montage, the two men begin recruiting scientists from across the country. We meet characters such as Richard Feynman (Jack Quaid), Vannevar Bush (Matthew Modine), Hans Bethe (Gustaf Skarsgård), Dr. Lawerence (Josh Hartnett), Isidor rabbi (David Krumholtz) & David Hill (Rami Malek).
Together, these scientists built the A-bomb in the desert town of Los Alamos, in an intense race to beat the Germans. And after three years of hard work, the program peaks with the Trinity bomb test.
Christopher Nolan (the film's director) gives us several captivating shots of the first-ever atomic bomb detonation. But soon after achieving this miracle, Oppenheimer realizes they might have opened Pandora's box.
In Oppenheimer's words, "And now I have become death, the destroyer of worlds,"
Story 2: Oppenheimer's Security Clearance Hearing (Also in Color)
"Prometheus stole fire from the gods and gave it to man. For this, he was chained to a rock and tortured for eternity."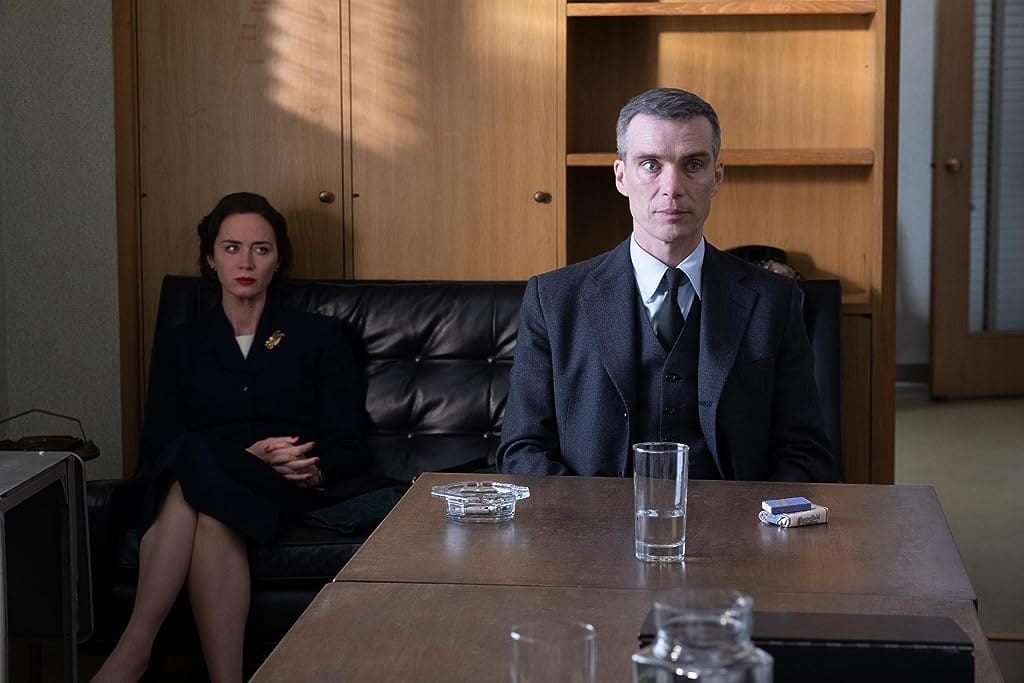 Throughout the movie, we cut back to the security clearance hearing of 1954. In fact, most of the story of the making of the A-bomb is told through the lens of this hearing. But what initially looks like a routine inquiry, soon reveals itself to be a kangaroo court with a predetermined conclusion.
Haunted by the Hiroshima and Nagasaki bombings, Oppenheimer became one of the leading voices for nuclear arms control. His panic attacks (which we see across the film) push him to try steering the US away from developing the far more powerful Hydrogen bomb. But this move (along with his many other mistakes), annoys some in government and so they use the security clearance hearings to put him in his place.
Jason Clarke does a fantastic job of playing the irritable prosecutor Roger Robb, who forces both Oppie & his wife Kitty, to relive some of their worst years. Robb uses testimony from Oppenheimer's enemies and some of his friends, to paint the physicist as a communist spy for the Soviet Union.
Though it does nothing to change the result, I loved how Kitty Oppenheimer runs circles around the prosecutor's questions. Emily Blunt killed this role as the fearless wife, who would fight anyone who came after or betrayed her husband. (Just Ask Teller- Benny Safdie)
But as the movie progresses, it becomes obvious that Robb was merely a messenger to the real mastermind of this character assassination.
Story 3: Senate Confirmation of Admiral Lewis Strauss (Black & White)
"The truly vindictive are as patient as a saint."

As far as I'm concerned, the Senate confirmation of Lewis Strauss (Robert Downey Junior) is the real main story of the Oppenheimer film.
For most of the movie, Strauss is presented as just another friend who tried to help Oppenheimer but ultimately failed. Even Strauss's theme song for most of the movie is calm and relaxing, giving the audience a false sense of safety with his character.
However, throughout the film, there was one question that no one could answer, "Who leaked Oppenheimer's security file?" The minute we figure out the answer, we soon realize that one of the themes of the Oppenheimer movie is revenge.
Strauss declares war on Oppenheimer when the father of the atomic bomb humiliates him and blocks the exportation of isotopes. In reality, Oppie's comments were not directed to offend Strauss, but to stop the US from escalating the nuclear arms race with Russia. But unfortunately, Admiral Strauss didn't see it that way.
Strauss leaks Oppenheimer's security file and sets up the hearing with the aim of humiliating him and denying his security clearance. This effectively neutralized Oppie's influence in government and limited his campaign for nuclear arms control.
I cannot stress how incredible Robert Downey Junior is in this role. For most of the movie, he is probably the humblest person in the story, and then in the next moment, his true colors come into focus.
But as well as Strauss's plan was, he underestimated how much the scientific community would stand together. And in an epic moment, Dr. David Hill (Rami Malek) testifies against Strauss and exposes his involvement in the farce security hearing.
Thanks to this scandalous testimony, the Senate voted to deny Strauss's confirmation as commerce secretary.
The Ending
After a thrilling three-hour history lesson, the Oppenheimer movie gives a fantastic ending by returning to the infamous conversation between Oppie & Albert Einstein himself (Tom Conti).
At the start of the Manhattan Project, Oppenheimer and his colleagues believed that detonating an atomic bomb would trigger a nonstop chain reaction that would raze the world. But while this didn't happen, Oppenheimer realized that by showing the world governments the power of nuclear weapons, he had started a global arms race that would eventually destroy the world.
This Nuclear Armageddon became Oppenheimer's nightmare.
Verdict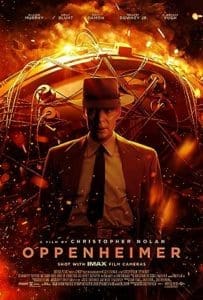 Review
Oppenheimer is a fantastic film with several layers to dissect. Three hours fly by as we dive deep into the drama, science, and politics of this pre-, intra-, & post-World War II period. The movie's acting was immaculate, with every member of its star-studded cast bringing their A-game and more.
As expected of Nolan, Oppenheimer's visual effects and soundtracks were phenomenal. But I still think the movie's story is its best aspect, as it discusses the horrors of nuclear weapons while telling a thrilling tale about the father of the atomic bomb.
Pros
Fantastic Storytelling (3 Hours Fly by with Ease).

Great Acting 

Great Visual Effects and Fantastic Soundtracks
Well-Written Movie
Captivating Story (Especially for History Buffs).