Note: All Amazon and Apple TV links on this post are affiliate links. If you buy anything on Amazon or Apple TV through the links on this post (not just items from this post), Amazon and/or Apple will pay me some coffee money (at no extra cost to you), which I promise to drink while creating more helpful content like this. All opinions on this site remain my own.
Where to Watch:
Elemental is a heartfelt animated movie that follows the story of Ember and Wade, two people who connect and fall in love despite their fundamental differences. But while Elemental is definitely a love story, its best aspect is how its background plot captures the immigrant's experience.
The Disney animated movie begins with Ember's parents, Bernie and Cinder, who leave their home island in search of a better life. They eventually arrive in Element City, a place where all the elements live together. But like most immigrants, the fire couple soon experienced the cultural shock of settling into a new country.
Throughout the opening of the Disney animated film, we follow Bernie and Cinder as they go through the pains of setting up a new life and business in a place with a different language and culture. But years of hard work and sacrifice pays off, as the fire couple soon establish their business and even build a community for their people.
This appreciation for the hard work of immigrant parents is one of the many things I love about Elemental. But the animated movie also does a good job of exploring the pressure & expectation that this sacrifice places on the next generation.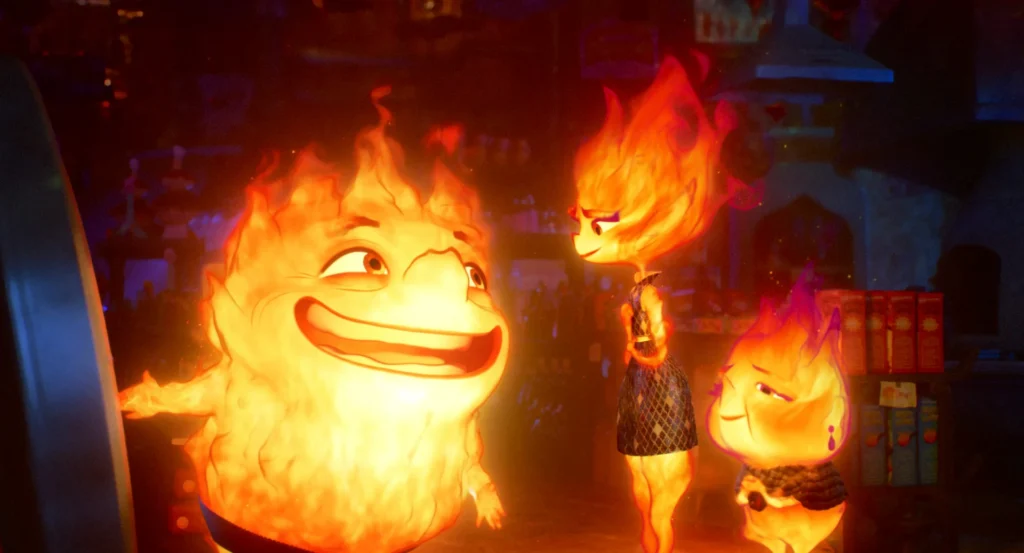 As her parents' business grows, we see a young Ember growing with it, all while yearning for the day she would take over from her father. But when that time finally comes, Ember realizes that she does not want it and is left paralyzed with the fear of disappointing her parents.
However, these fears and doubts only grow louder when she meets her water guy, Wade.
Now, love stories aren't anything new in movies, but telling a story of how a "water guy" falls in love with a "fire girl" was a fantastic way of showing how opposites can attract. Where common wisdom would tell us that either Wade or Ember would end up killing each other, the couple instead find balance through determination.
As their relationship challenges our bias, Wade also questions Ember's beliefs and shows her how much she has been missing by living her whole life in one place. And with each passing day, the two get closer and learn something new about each other's lives and culture.
But as expected of most Disney romance stories, it's at this point that the "true love" effect kicks in and resolves all the movie's conflicts.
Through her connection with Wade, Ember finds the courage to face her fears and tell her parents the truth. And to no one's surprise, they agree with her choices and let her discover herself.
However, as predictable as Elemental's ending is, it also gives the most emotional scene, where Ember and her dad share a traditional bow, showing the immense respect that both father and daughter have for each other. (Such a great scene).
Verdict
Movie title: Elemental 2023
Review
Elemental is right up there with Into the Spider-Verse as one of the best animations of 2023. The voice actors do a great job, illustrating the many lively characters of Elemental City (P.S. Gale was great). But it was the storyline and its awesome soundtrack that made this Disney animated film so good.
Pros
Great Story 
Great Characters
Hilarious 
Awesome Soundtrack