Note: All Amazon and Apple TV links on this post are affiliate links. If you buy anything on Amazon or Apple TV through the links on this post (not just items from this post), Amazon and/or Apple will pay me some coffee money (at no extra cost to you), which I promise to drink while creating more helpful content like this. All opinions on this site remain my own.
DC FanDome may have been shorter this year, but that doesn't mean the ultimate DC Fan event was scarce of awesome announcements, reveals, and trailers. And so after a week of contemplating (and rewatching The new Batman Trailer), we've picked our favorite surprises from DC FanDome 2021. Enjoy.
10. Catwoman: Hunted – Feb 8th 2022 (Plus 5 Other DC Original Animated Movies)
If you've followed CinemaHub long enough, you'll know that I'm a huge fan of DC's Animated Movie Universe. So you can imagine my excitement when during the DC FanDome 2021 Event, DC announced 5 original animated movies coming in 2022. Including a new DC Showcase Collection: Anchored by Constantine House of Mystery.
However, The first of the 2022 DC Animated Movie lineup is Catwoman Hunted.
Catwoman Hunted is an animated movie, that will see the feline burglar hunted by both Interpol and DC's criminal underworld after she steals the world's most valuable jewel. In exchange for a pardon, Catwoman forms an interesting partnership with Batwoman (Kate Kane) to take down DC's infamous criminal organization, Leviathan.
The animated film Will also feature several other villains including Black mask, Cheshire, Solomon Grundy, Cheetah, Talia al Ghul, and so on.
Catwoman comes out on 4k, Blu-ray, and digital on February 2022.
9. The Flash – November 4th 2022
DC FanDome 2021 also gave us our first look and feel of The Flash Movie.
Asides from showing off the speedster's new costume, the short clip also introduces Supergirl (Sasha Calle) and a new flash who turns an old Batman costume into his Flash suit. However, the best moment of the new flash trailer came when we got a tease of Michael Keaton's Batman and his iconic Batmobile.
Though we still don't know what the film's story is about, what we do know is that the flash movie will introduce audiences to the DCEU's Multiverse. We also that Ben Affleck's Batman will be in the Flash Movie.

The Flash Speeds into Cinemas on November 4th, 2022.
8. Peacemaker – Jan 13th 2022
One of the major Highlights of DC FanDome 2021 was the first official trailer of DC's Peacemaker Tv Series.
Set after the events of the Suicide Squad 2021 Movie, the series sees Peacemaker (Jon Cena) recover from his injuries and join a new team made up of Amanda Waller's people.
Throughout the trailer, we meet Peacemaker's partners in crime, which include Vigilante, and Emilia Harcourt. And though the series promises to be an R-rated version of the office, its main story seems to aim to explore the origins of Peacemaker and explain how the character ended up so twisted.
The PeaceMaker hits HBO Max on January 13th, 2022.
6. Suicide Squad Kills The Justice League Story Trailer
On the gaming side of things, DC FanDome 2021 gifted fans with the story trailer of Suicide Squad Kills The Justice League. The game will see Amanda waller's Task Force X face off against members of The Justice League who are being mind-controlled by Brainiac.
Based on the trailer, we can see that the game will feature core members of the Squad including Harley Quinn, Deadshot, KingShark, and Captain Boomerang. And they will fight against Jon Stewart's Green Lantern, The Flash, Wonderwoman, and of course Superman. No word Batman (yet).
My impression of the story trailer is that the game has a good combination of action, gore, and dark humor.
Suicide Squad Kills The Justice League Comes to PC, PS5, and the Xbox Series X|s sometime in 2022
7. Gotham Knights Trailer
Gotham Knights is one game I'm personally looking forward to. And the new story trailer DC dropped during FanDome has only increased my anticipation.
The game not only looks like a fantastic thriller, but it seems to be adapting The New 52 Batman Court of Owl storyline, which sees the Dark Knight face off against Gotham's Richest families and their undead enforcers, known as the Talons.
But rather than the Dark knight investigating the group, Gotham Knights will allow gamers to play as the Bat-Family instead. Choosing from characters such as Nightwing, Batgirl, Red Hood, and Red Robin.
Gotham Knights Comes Out Sometime in 2022.
5. Young Justice is Back (Out now on HBO Max)
After two long years, Young Justice (one of my favorite DC Animated Series) has finally returned
This year's DC FanDome not only brought a new trailer for Young Justice season 4 (A.k.A Young Justice: Phantoms), but the first two episodes of the season were also released on HBO Max during the event.
NB: As of when you're reading this article, Young Justice: Phantoms Episode 3 should be out
According to the show-runner Greg Weisman, the rest of the first half of Young Justice season 4 will be released weekly every Thursday between October 21 to December 30, 2021, while the second half of the season will be released in the first half of 2022.
Young Justice Season 4 is now streaming on HBO Max.
4. Aquaman Lost Kingdom Behind the scenes – (Dec 22nd 2022)
Aquaman is back, and he is better than before.
Though Aquaman 2 is still in production, its teaser gave us a good look at its cast. We got our first look at Jason Mamoa's Aquaman and Patrick Wilson's Orm for the first time in years. But the best shot from the trailer remains Yahya Abdul-Mateen II Black Manta, who returns to get his vengeance on the king of Atlantis.
According to the movie's director James Wan, Aquaman: Lost kingdom will have a more mature story while still keeping the fun nature of the first movie.
Personally, I wasn't a fan of the first Aquaman movie for several reasons, but mostly because its script was bad. But as a fan of James Wan work (seeing as he has total control of both the movie and the script), I have faith that he can make this movie better than first

Aquaman Floods into Cinemas on December 16th, 2022
3. Black Adam (July 29th 2022)
The new Black Adam Teaser was absolutely amazing, and it shows the anti-hero in all his glory.
Though short, the teaser gives us a brilliant shot of The prince of Khandaq, as he disintegrates & destroys a group of unfortunate mercenaries who free him from his prison.
Personally, I'm really into this R-rated version of Black Adam, as I feel it gives the movie room to show how the character borders between the line between villain and hero.
Black Adam will also star Pierce Brosnan as Dr. Fate, Aldis Hodge as Carter Hall (A.K. A Hawk Man), and other members of the Justice League of America such as atom Smasher and Cyclone.

Black Adam will Hit Theaters on July 29th, 2022
2. Shazam: Fury of the gods Behind The Scenes (June 2023)
Though it was only a teaser, Shazam: Fury of the gods was my second favorite trailer from DC FanDome 2021.
Based on the teaser, the movie's scope looks wide, and it promises to take fans to several prominent locations within the DC universe such as The Rock of Eternity and The Realm of the gods.
The movie also promises to dive deeper into DC's Greek mythology by introducing mythological creatures such as Chimeras, Minotaurs, Harpies, Dragons, as well as two new goddess villains played by Ellen Mirren and Lucy Liu – both of whom look amazing.
Shazam Fury of the Gods Arrives in 2023.
1. The Batman- March 4th 2022
Words cannot describe my excitement about the Batman movie after watching its latest trailer (but I'm still gonna try).
Though last year's trailer is still excellent, this year's The Batman trailer was honestly jaw-dropping, as it focused more on the caped crusader himself.
If there's one thing the new trailer shows off well is that this Batman (Robert Pattinson) is on a warpath to end crime in Gotham. While the movie's main story will see the Dark knight trying to capture The Riddler, the trailer also makes it clear that not even the henchmen will be spared.
Just like last year's teaser, the new trailer also touches on Batman's use of fear to manipulate Gotham's Underworld. And nowhere is this shown more than in the cinematic hallway fight that sees Batman beating up Penguin's men.
As we hear the Dark Knight himself say in the trailer, "Fear is a tool, and when that light (the bat signal) hits the sky it's not just a call, it's a warning." And given the number of unfortunate criminals he puts down in the nearly 3-minute clip, I think we can safely say that he makes good on that warning.
However, it wouldn't be fair to not talk about other standout performances from the new trailer. Zoe Kravitz's looked stunning as the feline burglar Catwoman (especially in the skyline shot with Pattinson's Batman). And based on the trailer, it seems like she will have sufficient time to shine as Selina Kyle.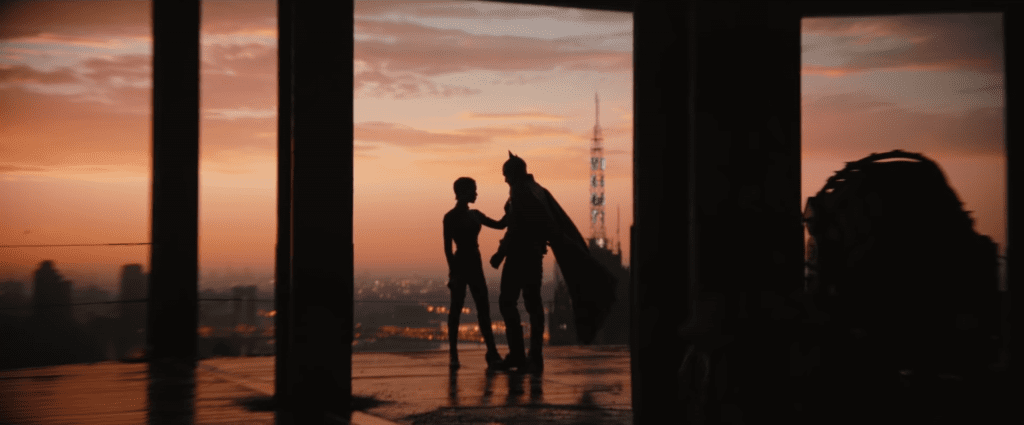 As expected, Jeffrey Wright looks good as James Gordon. And it seems Andy Serkis will continue the good work of being Batman's Alfred Pennyworth.
But like all greats, the new Batman trailer saves the best for the last, and the teaser with an amazing glimpse of Batman hunting down The Penguin. Though I'm still baffled by Colin Farrell's transformation into the crime lord, it was amazing to see the horror in his face as The Dark Knight rose out of those flames.

The Batman Comes to Theaters on March 4th, 2022.