Note: All Amazon and Apple TV links on this post are affiliate links. If you buy anything on Amazon or Apple TV through the links on this post (not just items from this post), Amazon and/or Apple will pay me some coffee money (at no extra cost to you), which I promise to drink while creating more helpful content like this. All opinions on this site remain my own.
Where To Watch:
Annabelle Comes Home is the seventh Movie in The Conjuring Universe and takes place after the events first Conjuring Movie.
Determined to keep Annabelle from wreaking more havoc, paranormal investigators Ed and Lorraine Warren lock the doll in their room of possessed artifacts. But when Annabelle awakens the room's spirits, it soon becomes an unholy night of terror for the couple's daughter and her young babysitters.
The Good
Ever since Conjuring 2, I've always wondered what life must have been like for The Warren's daughter, Judy. And not just because of her demon-battling parents, but because she also inherited her mother's ability to see spirits. (Which is a messed up ability for a ten-year-old to grow up with)
Luckily all these questions were answered in The Conjuring Universes's Latest Entry, Annabelle Comes Home.
The movie wastes no time in showing us how lonely life was for young Judy. With her parent's infamy as demonologists, Judy didn't have many friends asides from her babysitter Mary Ellen, and her friend Daniela (who I'll expand more upon ).
And with all relevant Human characters introduced, we then meet the main attraction, Annabelle herself.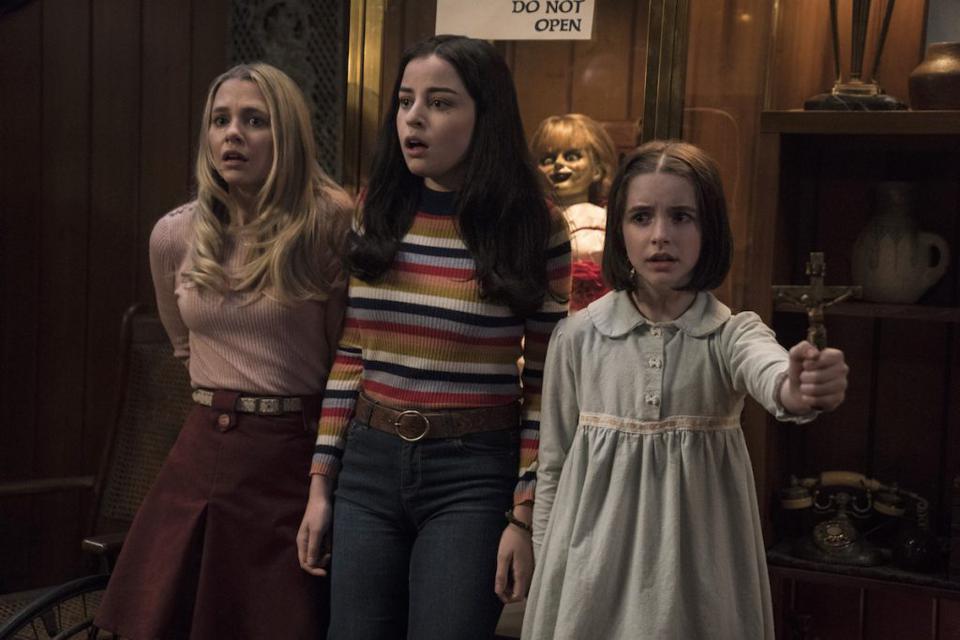 Honestly, after seeing the Movie, a proper title for this film would be Annabelle comes for revenge, because from the second the demon gets out, it sets its sights on Judy and does everything in its power to get her soul.
However, Annabelle is not the only demon to surface in this hour and twenty-minute long film.
Throughout the movie, we're introduced to several more entities, with the main additions to The Conjuring Universe's ever-growing demon list being The Bride, The Samurai, and The Ferry Man.
These demons and alongside their leader Annabelle, wreak havoc in Warren's House and almost bring the three young women to their breaking point. However, thanks to Judy's experience with the curse objects (along with God's Grace), the trio are able to return the demonic doll to her case in an intense final confrontation.
The Bad
Unfortunately, Annabelle Comes Home resorts to the classic horror Gimmick of characters making less than sensible decisions just to move the story forward.
However, there's no character more guilty of this crime than Daniela, whose entire story seemed to exist just to progress the Movie's plot. And while I appreciate the character's motivations, I can't help thinking that was a better way to communicate this to the audience.
Verdict
Movie title: Annabelle Comes Home
Review
Despite its flaws, Annabelle Comes Home is a good entry to The Conjuring Universe, and I had a great time watching it. But of the three Annabelle movies released so far, I still think Annabelle Creation is still the best.
Feel Free to tell us your favorite movie in the Conjuring Universe in the comments below. And check out our official ranking of all The Conjuring Universe Movies.
Pros
Expansion of The Conjuring Universe
Decent Scares 
Decent Story 
Cons
Standard Horror Movie Characters