Note: All Amazon and Apple TV links on this post are affiliate links. If you buy anything on Amazon or Apple TV through the links on this post (not just items from this post), Amazon and/or Apple will pay me some coffee money (at no extra cost to you), which I promise to drink while creating more helpful content like this. All opinions on this site remain my own.
Where to Watch:
Black Panther 2: Wakanda Forever is an amazing story that takes us on a journey of grief, love, and hope. Unlike the first movie, which focused too much on Wakanda and not on T'Challa, Black Panther 2 is very much Shuri's story.
Black Panther 2 can be split into 3 parts, and the first third of the film focuses on T'Challa's death.
We were all shocked in 2020 by the tragic death of Chadwick Boseman, after his silent battle with cancer. This tragedy was brilliantly adapted into the Black Panther sequel, which opens with the King of Wakanda on his deathbed after losing his battle with an unknown illness.
Because Erik Killmonger burned all the heart-shaped herbs in Black Panther 1, The Wakandans lose the ability to use the herb's superhuman properties to heal their King or to even create a new Black Panther. And so, in desperation, Shuri tries to recreate the herb to save her brother. But Shuri finds she's too late and T'Challa leaves to join the Panther ancestors.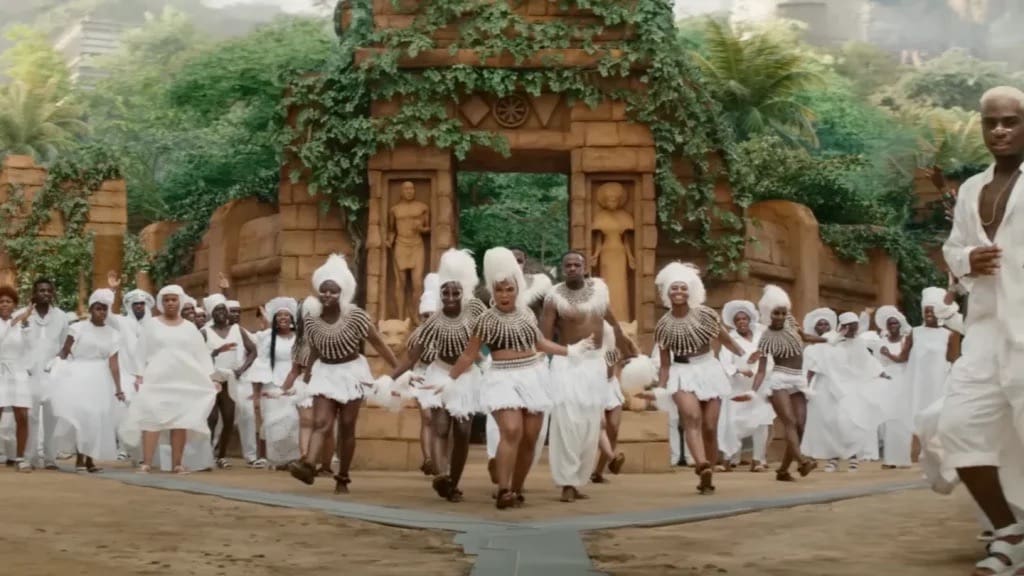 T'Challa's funeral was a wonderful tribute to Chadwick Boseman's life. But for Shuri, the funeral proceeding was a painful reminder that she couldn't save her brother in time.
The death of the Wakandan King brings other problems for his country. With no new Black Panther, western nations waste no time in trying to capitalise on this perceived weakness and try to steal some Vibranium. But in a fantastic show of force, the Dora Milaje capture the soldiers, and Queen Ramonda (Angela Bassett), uses them to warn other countries against attempting similar attacks.
But Wakanda isn't the only one with Vibranium
They say necessity is the mother of all inventions. So With Wakanda on high alert, it doesn't take long for The CIA to develop a Vibranium detecting machine and use it to search every corner of the earth for the rare metal. Their search eventually yields fruit, as they find Vibranium on the ocean floor. But they also uncover some unwanted visitors.
The second third of Black Panther sees the interaction of two different cultures. Just like we were captivated by Wakanda in the first movie, part 2 stuns us again with the introduction of the underwater country of Talokan.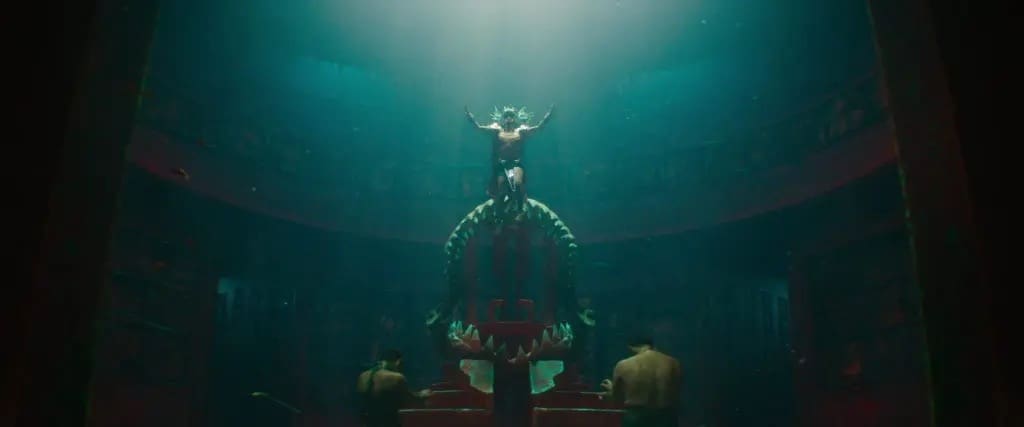 The Atlantis-like people were an amazing addition to the MCU, and I loved how it adapts Aztec culture to form the new nation. Their origin story was very interesting, and I loved their costume design, language, fighting style and weapons. The sirens were another interesting division of their military, and a great adaptation of the sea legends in which sweet mysterious voices lured Sailors to their deaths.
The Americans finding Vibranium threatened to expose Talokan, who like Wakanda, rely on the metal and have lived in peace without outside interference. And so their leader, Namor (A.K. A Kul Kul Khan- played by Tenoch Huerta), leads an assault on the CIA ship to destroy their device.
Blaming Wakanda for exposing Vibranium to the world, Namor threatens war, unless they bring him the scientist who made the Vibranium machine. This was a brilliant way of bringing in Riri Williams (Dominique Thorne) into the MCU, as the character (who later becomes iron heart) is known for her engineering feats like Tony Stark.
Despite grief being at its center, Black Panther 2 is still a very funny movie, with the usual suspect M'Baku (Winston Duke) delivering some of the film's funniest lines. The comedy only gets better during the search for Riri Williams, as I enjoyed the back-and-forth between Shuri and general Okoye (Danai Gurira).
Lupita Nyong'o is another person worthy of praise. Though her character Nakia, comes in halfway through the movie, she still heavily influences the story.
All laughter is soon gone, as the relations between Talokan and Wakanda falls apart, and the underwater nation attacks. Things only get worse when Namor kills Queen Ramonda, and the princess soon finds herself at the funeral of yet another family member.
It wasn't difficult to feel Shuri's rage and numbness to pain after her mother's death. And having lost most of her family in such a short time, the princess only wants revenge and this leads to the final third of Black Panther 2.
Using a Vibranium enriched plant from Talokan, Shuri recreates a version of the heart-shaped herb and becomes the new black panther. But with so much hate in her heart, when she goes to the ancestral plain, Shuri doesn't see her brother or her father, instead, she meets her cousin, Erik Killmonger who presents her with a choice. Continue her brother's noble reign and spare Namor for the greater good, or choose his vengeful path.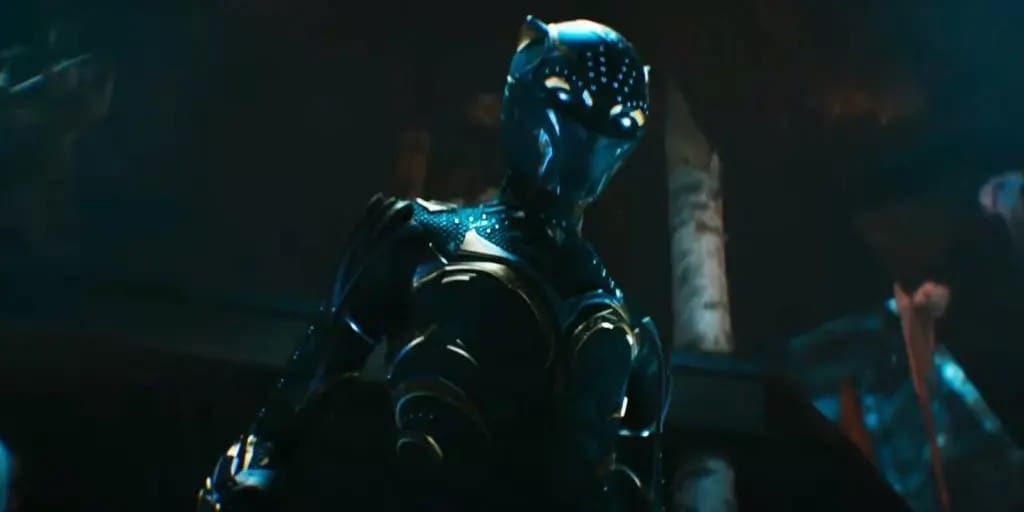 One of the best moments in Black panther 2 comes Shuri arrives in her black panther suit and defeats M'Baku in an arm wrestling contest. Showing she has both the strength and the suit to be worthy of the black panther mantle. But keen viewers would notice that Shuri is wearing a version of Killmonger's gold and black suit, implying that she sided with her cousin.
With the help of M'Baku, Riri Willams, The Dora Milaje, and the Wakandan forces, Shuri plans for an ambush for Namor.
The final fight between Talocan and Wakanda is the weakest part of Black Panther 2. So many minor fights I was looking forward to such as Okoye vs the Talokan general had underwhelming conclusions.
After an amazing first battle with the Talokan general, I was anticipating Okoye's final clash with him, especially after she got the midnight suit. But to my disappointment, the fight ends with Okoye kicking him into the ocean where he would survive whatever injuries he suffered.
But the biggest problem of all was that it made no strategic sense to fight an underwater tribe on the ocean where they would be strongest. Shuri should have trapped the Talocan army on the desert island just like she did with Namor, and then have the Wakandans fight them there.
While graphic, Shuri's final fight with Namor doesn't stick landing either. Despite getting stabbed through the abdomen, Shuri somehow walks off the injury and defeats Namor. And in a very predictable twist, Shuri suddenly drops her quest for vengeance and forces Namor into a panther ship with Wakanda.
Shuri ends Black panther 2 by leaving the throne to M'Baku while keeping the Black Panther mantle. But the movie's final surprise could create a very interesting Black Panther 3.
Verdict
Black Panther 2: Wakanda Forever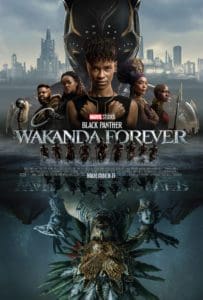 Movie title: Black Panther 2: Wakanda Forever
Review
Black Panther: Wakanda Forever does a brilliant job of honouring Chadwick Boseman's legacy while also handing over the black panther mantle. Like a proper sequel, Wakanda Forever shows the consequences of each character's decisions from the first movie and how they affect their country and by extension the MCU.
Letitia Wright crushed it as Shuri, as did Angela Bassett, Winston Duke and Lupita Nyong'o. Though the movie stumbles towards the end, its emotional moments and humour are enough to make for most of it.
Pros
Fantastic Storytelling 
Hilarious 
Great Acting 
Awesome tribute to Chadwick Boseman