Note: All Amazon and Apple TV links on this post are affiliate links. If you buy anything on Amazon or Apple TV through the links on this post (not just items from this post), Amazon and/or Apple will pay me some coffee money (at no extra cost to you), which I promise to drink while creating more helpful content like this. All opinions on this site remain my own.
Where to Watch:
If I'm being honest, I actually enjoyed F9, but not because it was a good movie (nah far from it). I enjoyed the film because it helped me appreciate the cinema movie experience again.
Over the past year, I have gotten used to watching movies alone from the comfort of my couch. However, F9 reminded me that there is nothing more satisfying than destroying a bad movie with the rest of the audience in a packed theatre.
But on to the main review
F9 sees The Fast and Furious family return for yet another "final ride." However, this time the team faces one of the most skilled assassins and drivers they've ever encountered, Dominic's brother Jacob (John Cena).
Over the years, the Fast and Furious Franchise has become infamous for its unbelievable action scenes. And with each installment, these stunts have gotten bigger and bolder. However, none of them have been as ridiculous as the stunts in F9. (Except for, maybe the Dubai scene from Fast 7).
As seen in the trailer, the movie throws out physics from the very beginning and instead opts for magical action scenes, where street racers suddenly have the ability to pilot cars to space and are basically immune from any form of damage.
Honestly, F9 might be one of the few times I've seen an action movie actively devolve into a comedy thriller.
But if cartoonish action scenes were the only problem with the latest fast and furious film, I would have been fine with it. However, its story wasn't any better.
Despite stitching together a fairly decent plot, F9 still fails to properly execute it. The film relies too heavily on flashback scenes to fill in essential plot details. And for some reason, it drags out its story for unnecessary dramatic effect, as if we couldn't all tell how it was going to end.
The emotional scenes were terrible. And it was just one of many moments where everyone in my theatre was in total agreement on how bad the movie was.
Even with the impossible stunts, had F9 kept its story short and simple, it could have been a decent movie. However, the film overindulged itself and the result was an annoying action thriller I only completed because of the company.
Verdict.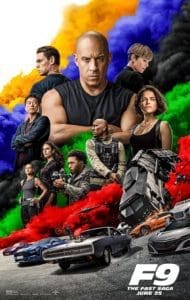 Review
F9 might be a bad movie, filled with ridiculous action scenes and a poorly executed story. But if you see this movie with the right audience, I guarantee you'll enjoy destroying every annoying moment of its story.
P.S. if you think the film's producers have learned their lesson, keep in mind that F9 sets up another Sequel and Spinoff. (Fingers crossed for the title).
Pros
Entertaining 
Decent Story 
Hilariously Impossible Action Scenes
Cons
Ridiculous Stunts & Action Scenes
Poor Storytelling
Predictable