Note: All Amazon and Apple TV links on this post are affiliate links. If you buy anything on Amazon or Apple TV through the links on this post (not just items from this post), Amazon and/or Apple will pay me some coffee money (at no extra cost to you), which I promise to drink while creating more helpful content like this. All opinions on this site remain my own.
Where To Watch:
Glass Onion: A Knives Out Mystery, is one of the best-written murder mysteries I've seen in a while. Somehow, this sequel is even better than the first movie, which came out in 2019 (ha, simpler times).
Knives Out 2 kicks off when tech billionaire Miles Bron (Ed Norton) invites his best friends for a getaway on his private Greek island. Besides the free vacation, Miles also gifts his gang of "disruptors," with the opportunity to solve a murder mystery. But when someone else turns up dead, the night takes a different turn and everyone becomes a suspect.
One of the many things I appreciated about this movie is how it captures the atmosphere of the 2020 lockdown period. Seeing characters stuck at home, having online meetings, and playing games such as "Among us" via zoom, brought back a wave of nostalgia.
But asides from the memories, Glass Onion also uses the "isolation in place" to introduce us to the gang.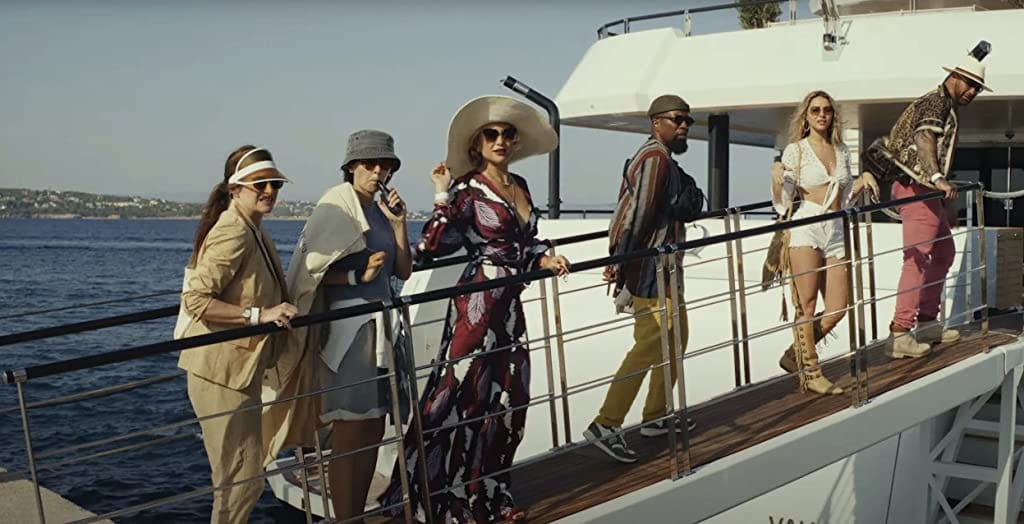 First, we meet Connecticut governor Claire Debella (Kathryn Hahn). Then we transition to genius scientist Lionel Toussaint (Leslie Odom Jr). Fashion designer Birdie Jay (Kate Hudson) throws a party while her assistant Peg (Jessica Henwick) tries to put out as many career-ending fires as possible. And YouTube influencer, Duke Cody (Dave Bautista) & his girlfriend whiskey (Madelyn Cline) isolate with Duke's mother.
Last, but not least, is Miles's former corporate partner, Andi Brand (Janelle Monáe). But we'll get to her soon.
Like all good murder mysteries, Glass Onion slowly unveils its plot, all while leaving the answers to most of its questions in plain sight. However, for a simple mystery, the movie is filled with many misleading clues that hide its real story.
One of the first mysteries Glass Onion points out to the audience is the awkward tension between Andi & the rest of the gang. Over the course of the film, we learn about how Andi lost not only her company but also her friends, all of whom sold her out to gain favour with Miles.
All this creates an unhealthy environment within the group, with each character harbouring secrets & lies because of their compromising relationship with Miles. But while most of us would conclude that Andi is here for revenge, Glass Onion reminds us that nothing about this movie is what it seems.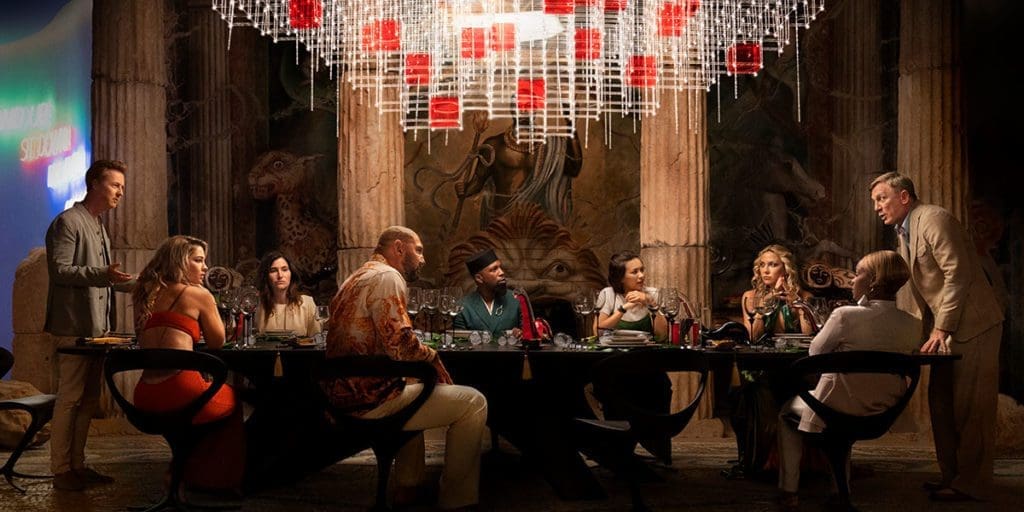 Though expected it, I still have to say that Glass Onion is a hilarious movie.
Similar to Knives Out 1, the film flawlessly integrates humour into its murder mystery. As always, Kathryn Hahn's sarcasm was top-notch, and I enjoyed the tone-deafness of Dave Bautista's Cody and Kate Hudson's Birdie. But the real treat came from all the background jokes & random celebrity cameos.
But even with great jokes and fantastic characters, the true star of Glass Onion was its storytelling. And just when we think we understand where the plot is heading, Glass Onion reveals a second murder mystery that redefines its entire first half.
I wasn't initially a fan of the twist, as it felt like lazy writing. However, what won me over was the beautiful combo of comedy & chaos that was Glass Onion's finale. I burst with laughter as detective Benoit Blanc (brilliantly played by Daniel Craig) unveiled the real murderer and their ridiculously simple plot.
But even after giving us a story, the movie treats us with the satisfying conclusion of watching an empire of lies & deception come crashing down.
Verdict
Glass Onion: A Knives Out Mystery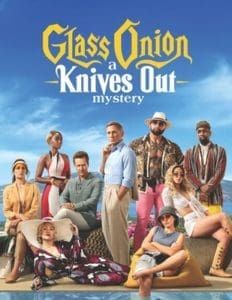 Movie title: Glass Onion: A Knives Out Mystery
Review
Glass Onion: A Knives Out Mystery is a hilarious murder mystery everyone should see. Though it has several twists and turns, the movie's story is very entertaining and well-structured. Its star-studded cast did not disappoint, especially Janelle Monáe and Daniel Craig. (P.S. shoutout to Jessica Henwick, she was great).
I enjoyed watching knives Out 2, and I know you will too.
Pros
Hilarious
Simple But Captivating Murder Mystery
Great Storytelling
Interesting characters