Note: All Amazon and Apple TV links on this post are affiliate links. If you buy anything on Amazon or Apple TV through the links on this post (not just items from this post), Amazon and/or Apple will pay me some coffee money (at no extra cost to you), which I promise to drink while creating more helpful content like this. All opinions on this site remain my own.
Where To Watch:
Honestly, Knives Out might be one of the funniest (and yet somehow tense) movies I've seen this year. The film brilliantly blends the classic Agatha Christie Murder Mystery with family drama, great humor, and actual Murder.
Knives Out follows the death of the renowned crime novelist Harlan Thrombey, who's found dead just hours after his 85th birthday.
It's up to legendary Detective Benoit Blanc (Daniel Craig) to stiff through the self-serving lies of Harlan's dysfunctional family and staff and uncover the truth behind the author's death.
Now no matter how serious that plot sounds, I promise you, Knives Out is the funniest movie you'll see this year. And all this is thanks to the effort and acting of the all-star cast of this comical Murder Mystery.
Everyone was perfect, From Jamie Lee Curtis (Halloween) and Lakeith Stanfield (Sorry To Bother You) to Chris Evans himself (Yes Captain America is in this movie). However, the standout performances came from the killer duo that was Daniel Craig and Ana de Armas. These two killed their roles, especially Ana de Armas, who plays Harlan's loving immigrant nurse, Marta.
Her character's rare condition of throwing up whenever she lies, livened up any dull scene while also making her essential to Blanc's investigation. And all this leads to an ending filled with so many twists, that made Knives out felt like an awesome Agatha Christie Novel.
Verdict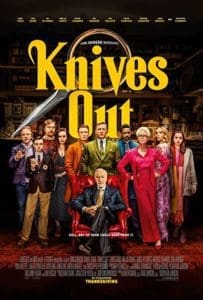 Summary
To all my fellow book nerds, Knives Out is an excellent comical take on the Murder Mystery genre. Thanks to its amazing cast of actors, the movie was a fun experience, and I cannot recommend it enough.
Pros
Good Story 
Excellent Cast
Hilarious
Cons
Slightly Ridiculous Story