Note: All Amazon and Apple TV links on this post are affiliate links. If you buy anything on Amazon or Apple TV through the links on this post (not just items from this post), Amazon and/or Apple will pay me some coffee money (at no extra cost to you), which I promise to drink while creating more helpful content like this. All opinions on this site remain my own.
Where To Watch:
While we all know the Fast & Furious franchise has departed from its street racing roots to become a superhero flick. You have to applaud the writers for finding new ways to keep the franchise interesting.
As one user on Twitter put it:
Behind the scenes footage of the writers room for the new #HobbsAndShaw movie. pic.twitter.com/BrJtQmfKaL

— Default (@JamalDmarco) February 1, 2019
But I digress.
The Good
As you could probably tell from the trailer, Hobbs and Shaw is not a deep movie. If anything, the film takes the usual lies that we've all come to expect from the franchise an all-new level of bullshit.
However, if there was one thing Hobbs and Shaw succeeded at, it was keeping me surprised.
First off, let me start by saying that giving Dwayne Johnson and Jason Statham, a spin-off was a great idea.
I enjoyed every creative jab, insult, and joke these two threw at each other. And while I wish the duo had a better story to work with, I honestly can't wait to see The Rock and Jason Statham, in more stuff together (Movie or TV Series).
But the best of surprise of Hobbs and Shaw came with the Kevin Hart and Ryan Reynolds performance. These two killed it and injected life into an otherwise dull story (more on that later).
However, what most fans want from an action movie is action. And I can say Hobbs and Shaw didn't hold back on that note.
Admittedly, most of the action scenes and stunts were out of this world (And some, just flat-out impossible).
But I'd like to raise my glass to the directors for that final fight scene with Idris Elba. It was amazing.
The Bad
As it is with most comedy-filled movies, not all jokes land. And certain things conveniently worked for our protagonists.
But the biggest drawback of Hobbs and Shaw was its story. There was absolutely nothing new or exciting about it. Every time the film left any action or comedy scene to check on the actual story, all interest in my theater died.
And this is the main reason I prefer action movies like John Wick.
They understand that a compelling story combined with solid action scenes is better than an empty plot with admittedly impressive action.
Verdict
Fast & Furious Presents: Hobbs & Shaw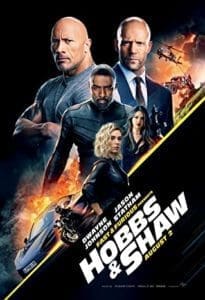 Movie title: Fast & Furious Presents: Hobbs & Shaw
Review
Despite its unbelievable stunts, Hobbs and Shaw is still a decent action movie. One that could have been better if it had a solid story. PS Wait for the two post-credit scenes, you won't regret it.
There's our review of Hobb's and Shaw, feel free to drop your thoughts in the comments section below. Or tweet at us @RealCinemaHub.
Pros
Entertaining 
Good Action Scenes and Stunts 
Hilarious