Note: All Amazon and Apple TV links on this post are affiliate links. If you buy anything on Amazon or Apple TV through the links on this post (not just items from this post), Amazon and/or Apple will pay me some coffee money (at no extra cost to you), which I promise to drink while creating more helpful content like this. All opinions on this site remain my own.
Where To Watch:
After a Mission goes wrong, Mission: Impossible Fallout finds Ethan Hunt and his team in a race against time to stop a global catastrophe.
No installment of Mission Impossible would ever be complete without twists and turns. And Fallout proves to be just as cunning and smart as its predecessors. Kicking off with an epic opening scene, Fallout goes all out with the classic Mission Impossible tropes of Masks, Double agents, and Secret Missions within Secret Missions.
But it's the stunt work and fight scenes that set Fallout apart from all other action movies. With my favorite being every single scene in Paris. From the three-part chase to the fight in the Men's room, Fallout's cinematography never failed to impress.
Similar to Nathan Drake from the Uncharted, Ethan (Tom Cruise) is a man with a plan for just about any scenario. No matter how dire or impossible it might seem. However, behind every Successful man is a Diligent team. And Ethan's team proved to be as skilled and indispensable as the man himself.
But setting Aside the Meticulous art of Movie-Making that turned out to be Mission: Impossible Fallout. I was really impressed that a 56-year-old Tom Cruise performed all his own stunts.
Despite its strong opening and breathtaking stunts, Fallout adds nothing new to the Mission Impossible franchise. Using the same old formula from the earlier films the story follows the IMF being underestimated for the umpteenth time. And Ethan in a race against time to save the world from an apocalyptic disaster.
However, it's the movie's secondary villain, August Walker ( Henry Cavil) that left me less than excited. Compared to Ethan Hunt, Walker was an inferior agent and unworthy of all the hype the trailers gave him. Not to mention that he got his ass handed to him in one place I expected him to shine ( the bathroom fight).
And while this aspect didn't kill the movie for me, I expected more from Superman.
Verdict
Mission: Impossible Fallout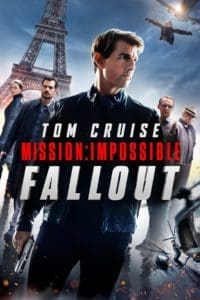 Movie title: Mission: Impossible Fallout
Review
From the chase to the fights to the stunts to the plans, Fallout brings back the classic Mission Impossible in an even better way. And while I hope this doesn't turn into a ten-part series, I respect how the franchise has evolved.
Pros
Incredible Action Scenes
Excellent Acting & Cast
Decent Story