Note: All Amazon and Apple TV links on this post are affiliate links. If you buy anything on Amazon or Apple TV through the links on this post (not just items from this post), Amazon and/or Apple will pay me some coffee money (at no extra cost to you), which I promise to drink while creating more helpful content like this. All opinions on this site remain my own.
Where To Watch:
The Irishman is one of those films that will go down as a timeless tale about the Italian Mafia.

This biographical crime thriller sees Frank Sheeran (Robert De Niro) reflecting on his time working for the Bufalino crime family. Now, older, the WWII veteran, recalls his most prolific hits and his involvement in Jimmy Hoffa's disappearance.
I've always enjoyed movies like The Irishman. Films like these seem tedious at first because they focus more on discussion rather than physical action. But they always lead to scenes so quick and intense, that the audience requires little to no explanation to grasp what just occurred.
Movies like these, move from inception to planning and then execution.
That's what the Irishman is, A three-hour movie about the Italian Mafia, making moves to keep themselves (and their friends) in power. While also removing their adversaries from the board. The movie shows the betrayals and sacrifices necessary to survive in this crime world. And it holds no punches in linking certain historical figures to the mob.
As expected from a Martin Scorsese movie, the acting in The Irishman is impeccable. With Oscar-worthy performances coming from Joe Pesci, who plays the quiet yet powerful Russell Bufalino. And Al Pacino, who plays sharp-tongued Jimmy Hoffa.
But it was Robert De Niro that kept me invested in the Irishman. His portrayal as Frank Sheeran was somber, calm, and dutiful. However, what surprised me, was the unexpected humor he injected into scenes that were also dark and very disturbing.
I mean, imagine giving tips on how to kill mobsters, minutes before you kill a member of the Italian Mafia.
From what type of gun to use and how to use it in the scenario. Not to mention the general spot everyone uses to dispose of the weapons after a successful hit. You can't make this stuff up.
But as much as I enjoyed this Irishman, I have to say it's very long. And if you're discouraged by the movie's three-hour runtime, you can try out this helpful tip from Twitter user Alexander Dunerfors Kardelo.
He divides the entire movie into four sections. This way, you can watch The Irishman as a Tv series with four 40 minute episodes, rather than sitting through the whole film at once.
Happy Binging.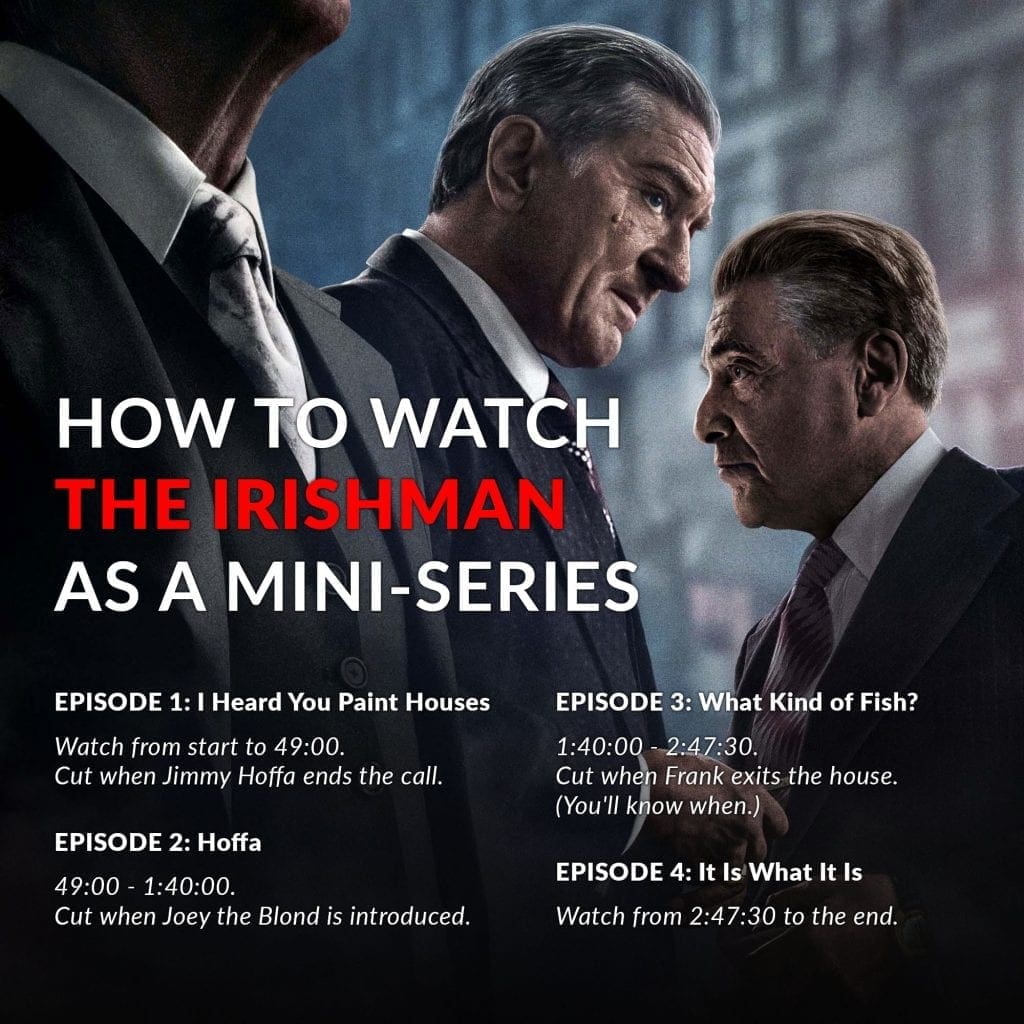 Verdict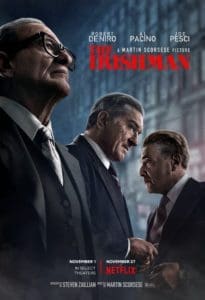 Movie title: The Irishman
Review
At its core, The Irishman is really about a man reflecting on his past life. While trying to make amends where he can, before leaving to see his maker.
Pros
Good Storyline
Great Acting
Good Storytelling
Cons
Long Runtime (3Hrs 3o Mins)