Note: All Amazon and Apple TV links on this post are affiliate links. If you buy anything on Amazon or Apple TV through the links on this post (not just items from this post), Amazon and/or Apple will pay me some coffee money (at no extra cost to you), which I promise to drink while creating more helpful content like this. All opinions on this site remain my own.
Where to Watch:
The best part of Those Who Wish Me Dead was without a doubt the awesome performances of its amazing cast of actors.
The survival thriller sees a smoke jumper trying to protect a teenage boy from the two assassins hunting him in the Montana wilderness. But while the movie focuses on these two, its more interesting story takes place with its side characters.
When we first meet our protagonist Hannah (Angelina Jolie), she's guilt-ridden by a botched rescue mission that killed some of her teammates as well as three other victims. And since the accident, the firefighter has been desperately searching for a way to make things right.

Enter Connor.
After his father is ambushed and executed, Connor (Finn Little) escapes into the woods where he runs into Hannah. There, the two bond over their horrible experiences with death, and form an adorable mother and son dynamic.
Personally, I enjoyed the banter between Jolie and Finn. And I loved that the pair gradually forced each other to face their fears of failure.
Going into full Tomb Raider mode, Hannah does everything in her power to keep Connor alive in the face of impossible odds. But as much as I respect Angelina Jolie's performance, she's overshadowed by her relentless supporting cast.
Aiden Gillian and Nicholas Holt were fantastic as the movie's ruthless assassins. And thanks to their point of view, we got to understand their motivations and methods.
However, the real show-stealers were Jon Bernthal and Medina Senghore who gave the assassins absolute hell as Alison and Ethan Sawyer.
Despite being pregnant, Alison was more than prepared to use her skills to protect her home and loved ones. And her Husband Ethan wasn't far behind. Together, the couple constantly helped Hannah and Connor escape sticky situations.
In the end, I ended up enjoying their little side story more than the movie's main plot. And I found the conclusion of their story very satisfying.
Verdict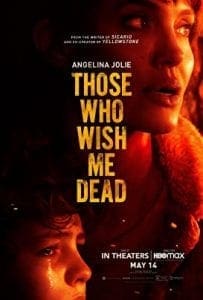 Movie title: Those Who Wish Me Dead
Review
While it's not a must-watch, Those Who Wish Me Dead is a solid survival thriller. The movie brought the best out of its amazing cast and I really enjoyed its story of survival and redemption. 
Pros
Great Acting
Awesome Characters
Decent Story