Where To Watch:
Evil Dead Rise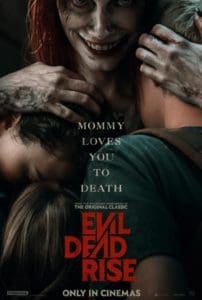 Movie title: Evil Dead Rise
Movie description: Evil Dead tells a twisted story, that sees the reunion of two sisters cut short when an ancient book leads to the rise of flesh-possessing demons. This thrusts the sisters and their family into a battle of survival as they are faced with the most nightmarish version of motherhood imaginable.
Review
Evil Dead Rise is an intense horror thriller that rarely gives its characters any rest or breathing space.  After an insane opening, the movie throws its main cast into a traumatic experience, where they're forced to abandon their dead and fight to save their living loved ones. 
Rather than leaning on jump scares alone, Evil Dead Rise, gives us violence and lengthy disturbing moments that I'm sure you wouldn't forget in a hurry. (And I say this, because I  can still remember every moment of the movie).
Pros
Great Opening Scene
Awesome Combination of Zombie & Supernatural Horror
Excellent Acting
Cons
Characters Occasionally Make Poor Decisions.