Note: All Amazon and Apple TV links on this post are affiliate links. If you buy anything on Amazon or Apple TV through the links on this post (not just items from this post), Amazon and/or Apple will pay me some coffee money (at no extra cost to you), which I promise to drink while creating more helpful content like this. All opinions on this site remain my own.
Where to Watch:
An American Pickle is the ultimate "Turn off your brain and go with it movie (but in a good way)." While the HBO Max film can be cartoonish and silly, it's also hilarious.
An American Pickle sees Seth Rogen star as a struggling laborer named Herschel Greenbaum. Frustrated with his home town Schlupsk, Herschel moves to 1919 America with the dream of building a better life for his family.
However, while working at his factory job, Herschel falls into a vat of pickles, and somehow the Brine preserves him perfectly for 100 years. When Herschel finally escapes his Pickle prison, he finds that he is in present-day Brooklyn and hasn't aged a day.
But when Herschel tries to seek his family, he is troubled to learn that his only surviving relative is his great-grandson, Ben Greenbaum (also played by Rogen), a computer coder whom Herschel can't even begin to understand.
Why So Unserious
An American Pickle is a hilarious movie in more ways than one.
The film doesn't even bother trying to bullshit the audience about how Herschel survived a hundred years in Pickle Brine. Instead, it embraces the silly nature of its story and runs with it. And strangely enough, it works.
Seth Rogen is fantastic. While he plays both Herschel and Ben, both characters felt like two different people. And they were moments when I forgot it was the same person playing both roles.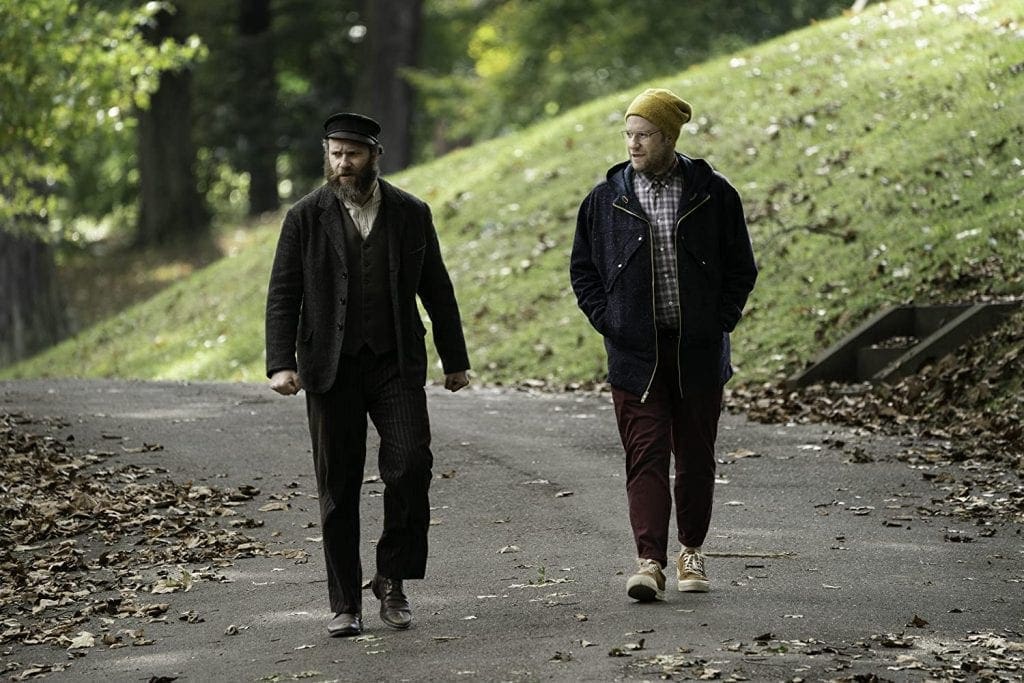 As Herschel, Seth depicts a man who is a fish of water in modern America. After spending a hundred years in Pickle Brine, Herschel is unaware of how much society has grown over the years. And thus he is often blunt about his feelings, and unknowingly offensive.
On the other hand, Ben is an indecisive App Developer, stuck in life because of his fear of failure. But thanks to the chaos Herschel brings to his life, Ben takes the leap and rediscovers himself.
However, with all that said, my favorite characters from An American Pickle are The Cossacks. While their time on screen was short, they are one of the best aspects of the movie. And they also play an essential role.
Hilarious But Also Emotional
What's impressive about An American Pickle, is that it's not only funny but also relatable. One of the film's best moments is when Herschel goes through the Greenbaum photo album and sees how much of his family's life he has missed.
Because of his accident, Herschel never met his son or grandson. And he also wasn't there when his wife Sarah passed. However, on meeting his great-grandson Ben, it felt like fate allowed Herschel a chance to correct a mistake that should have never happened.
But things aren't so straightforward.
One of the many questions An American Pickle asks is, "If you could meet your future descendants in a hundred years, would you be proud of what they've become?" For Herschel, he finds that the answer is complicated.
When Herschel first meets Ben, he is happy that he still has a living relative. However, when he realizes that Ben is a lonely App Developer, who has left the Jewish faith, it feels like Ben has abandoned the family's way.
But as the movie progresses, we later discover the reason Ben is so indecisive because he's afraid of disappointing his late parents. So in his way, Ben is trying his best to Honour his parents, and by extension, the Greenbaum Family. And it's only when Herschel realizes this, that he's finally able to accept Ben for who he is.
And this is the message at the heart of An American Pickle. While we all want our loved ones to succeed, as times change, the definition of success also changes. And rather than forcing those around us into our definition of success or happiness, it's better to learn to accept them for who they are.
Verdict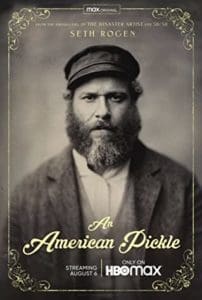 Movie title: An American Pickle
Review
Whether you're looking for a quick laugh or an emotional movie about family heritage, you should check out An American Pickle. The movie delivers far more emotional depth than I expected, and I had a great time watching this one. 
Pros
Hilarious
Good Acting
Entertaining